THE IMPACT OF VIDEO : Why Should Your Business Use Video?

People like doing business with people. The second best thing to face-to-face is video.
Video creates a much more personal connection with your customers and clients.
Video has the ability to communicate social and emotional information, as well as facts.
Only 20% of web visitors will sit and read the majority of the text on a web page, but 80% will sit and watch the same content when presented in the form of a video.
Forrester Research
Adding video to your website makes your site SIX times more likely to convert a 'Browser' into a paying customer.
Forrester Research
The average internet user watches 32.2 videos per month... and Internet video traffic will be 69% of all global consumer Internet traffic by 2017 !
heehaw / Cisco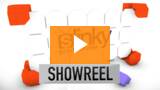 Watch Slinky's General Showreel
What We Offer
Watch more of Slinky
Why Choose Slinky?
On-Set Photo Gallery
Behind The Scenes Video

<! ############# CONTENT ENDS HERE >